Replace Missing Teeth – Merrillville, IN
Re-Complete Your Smile with Dazzling New Teeth
As many as 178 million people in the United States are estimated to have lost at least one tooth, and roughly 40 million people have lost all of their natural teeth. As such, you need to be prepared to deal with the possibility of tooth loss at some point in your life – and our dental experts can help! We have several ways to replace missing teeth in Merrillville in order to restore the appearance and function of your grin. Call United Dental Centers of Merrillville today to set up a consultation and take the first step in getting new teeth!
Why Choose United Dental Centers of Merrillville for Replacing Missing Teeth?
Lifelike, Long-Lasting Prosthetic Teeth
Dental Insurance Accepted
Dentists with Decades of Experience
Dental Bridges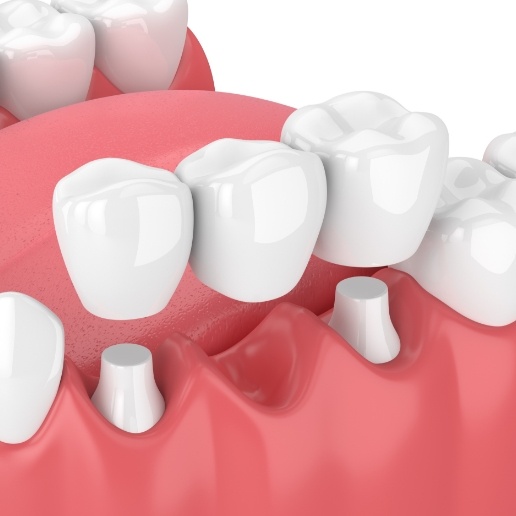 A dental bridge consists of several free-standing prosthetic teeth, called pontics, that are suspended between two crowns. The crowns help anchor the bridge to your mouth so that the pontics can be used to replace one or more teeth in a row. We normally make dental bridges out of tooth-colored materials like ceramic and porcelain. That way, your replacement teeth will resemble the natural ones as closely as possible.
Dentures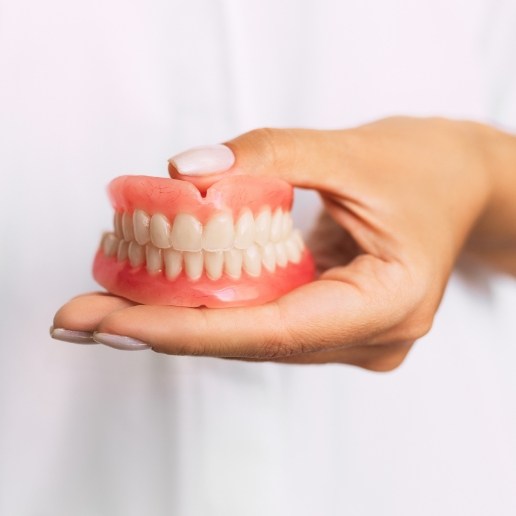 For more extensive cases of tooth loss, full or partial dentures might be recommended. With a full denture, it's possible to restore an entire row of teeth with a restoration that sits comfortably on your gums. Partial dentures, meanwhile, are used to fill in gaps in different parts of the arch, fitting in snugly with your remaining natural teeth. Both types of dentures consist of ceramic or porcelain prosthetic teeth that rest on a base made out of gum-colored acrylic.
Dental Implants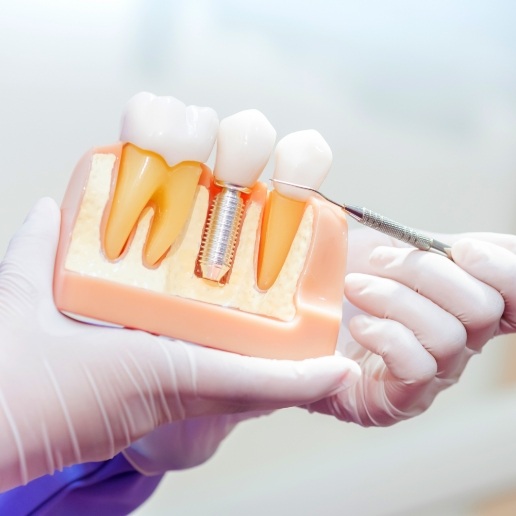 Dental implants come the closest to resembling your natural teeth in more ways than one. In addition to supporting restorations made out of dazzling, realistic-looking materials, they can also act as replacement tooth roots to give your new smile additional bite power. You'll be able to eat all of your favorite foods with comfortable, natural-looking prosthetic teeth. Also, since dental implants provide the same stimulation as natural tooth roots, they can stop the bone loss in your jaw that would normally occur as a result of missing teeth.
Learn More About Dental Implants
Full Mouth Reconstruction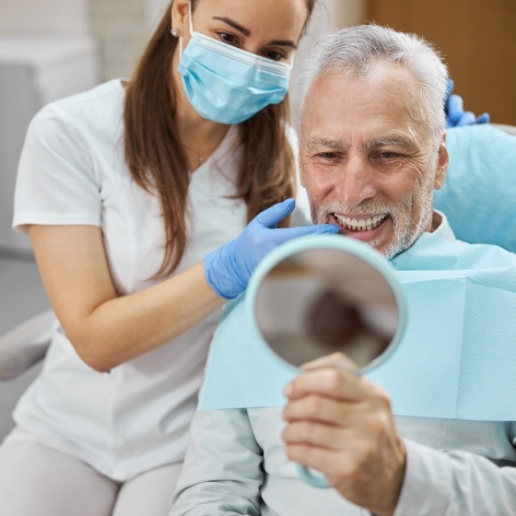 The dental experts that make up our team can combine multiple restorative, cosmetic, and tooth replacement treatments to completely transform your smile. Depending on your oral health needs as well as your specific goals, we can create a dental treatment plan to help you rebuild your grin. Any number of dental services may be recommended as part of your full mouth reconstruction plan; you'll be given an estimate of the cost and timeline at the beginning of the process.